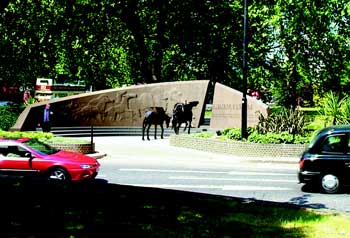 In several polls over recent years to determine what the public would like to see erected on various sites throughout the capital, it has been shown that a memorial to Animals in War is consistently the public's first choice for a new monument.

58 feet wide and some 55 feet deep, the memorial will be of great interest to a wide spectrum of society and will have a strong visual impact, both from distant and close views. The design will attract people to enter the monument and walk through, becoming involved and informed about the subject.


There are three principal elements in the design. On the lower level two heavily laden bronze mules struggle through an arena, enclosed by the dominant wall symbolising the war experience. A space in the wall leads through to an upper level with a horse and dog facing north into the gardens. They stand bearing witness to the loss of their comrades and representing hope for the future.

Inscriptions
There will be inscriptions on both sides of the shorter section of wall, including the name of the monument and information about theatres of war and the numbers of animals lost. The names of major donors will be carved on the outside of the longer section of wall. The names of those giving significant donations to the fund will be recorded on the outside of the longer wall, tracing the edge of the ghostly silhouettes of animals lost in conflicts.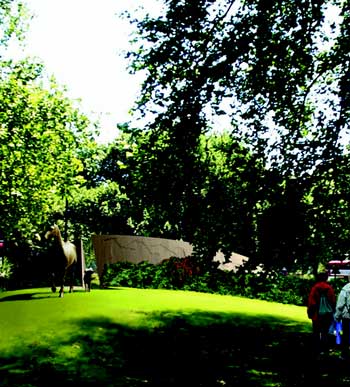 The Sculptor - David Backhouse FRBS RWA FRSA
There was fierce competition to be selected to design this prestigious memorial. Forty sculptors were originally chosen to submit ideas and from them there was a clear winner in the minds of the Trustees.

David Backhouse's career in sculpture spans more than thirty years and his work is well known through exhibitions, his international following of collectors and his many public sculptures. He says of his work:

"My sculptures are meditations on the human and animal condition in the modern world, reflecting loss and tragedy, hope and delight and above all, tenacity of spirit."

His work includes the Cloaked Horseman for Bristol City Centre, Centaurs for Whiteleys in London's Bayswater, The Stream of Life for Central Square in Telford and the Dolphin Family for London Docklands. <link to his website?>